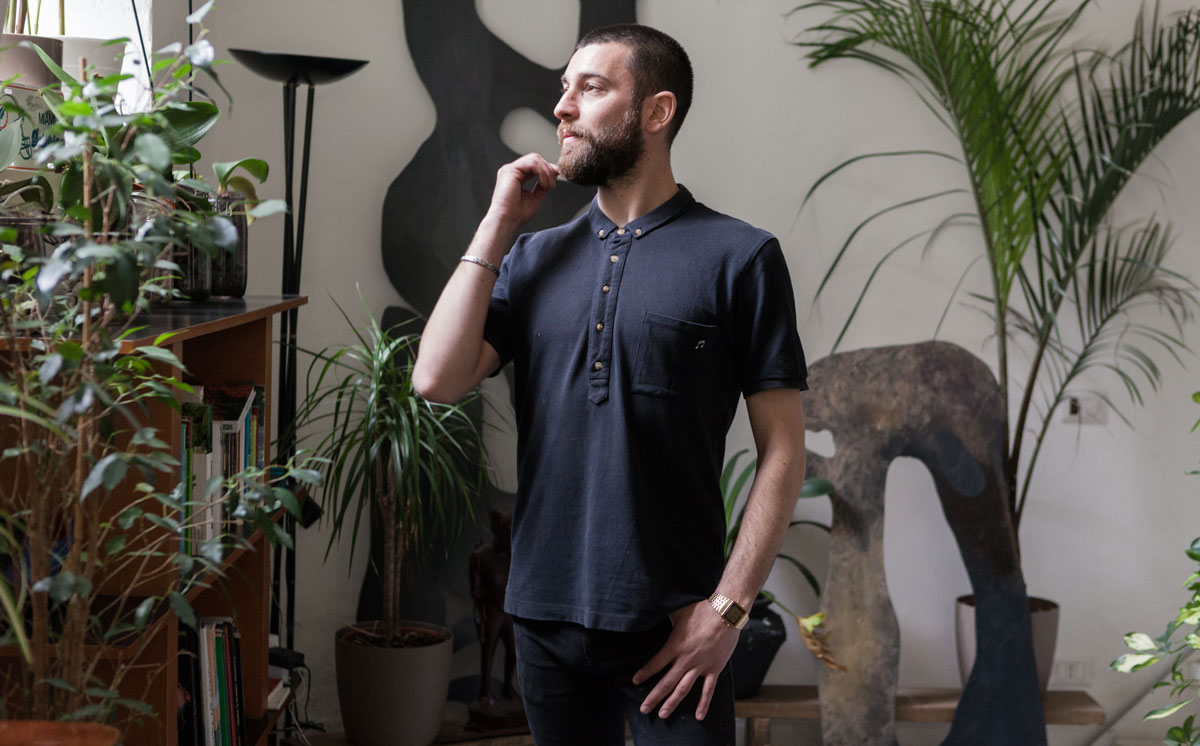 Giorgio Bartocci, as much street art as possible.
---
Spring vibes, here we go! It's finally time to walk the streets with eyes to the city we love so much. Let's move to wider spaces in order to enjoy them the most. And this is going to be even easier, as people like Giorgio Bartocci are filling our walls and homes with colors. We met Giorgio a while ago in Chinatown, Milan, where he was about to finish one of his latest works at Fabbrica del Vapore. He told us some tips and tricks for a graffiti artist, what inspires him and makes him always change. There is a path that walked Giorgio from walls to galleries. But no more spoilers, have a read and look at the surprises Giorgio set us up. It's the Design Stories Way, folks!
---
Ciao Giorgio, we've been following your work for a while now. Who are you and what do you do?
Hi! I am a graffiti artist, I live and work in Milano, where I deal with urban art and design. Years ago I was used to say about myself: "I live in a creative tension, which is anxiety and daily rhythm". I find myself right now a bit softer, but I am not really sure.
Speaking of habits and routines, what are yours?
I think what's between art and life is unique, and I don't have a great relation with routines. I try hard not to make everyday the same, keeping the anxious feeling of renovating. By doing so I can see my works evolving in different ways, moments and places. So they can live and stand alone, on their own. I am fascinated by the little differences every day can give. Not always, but rather often. The unexpected can be a good gift to routines and design habits.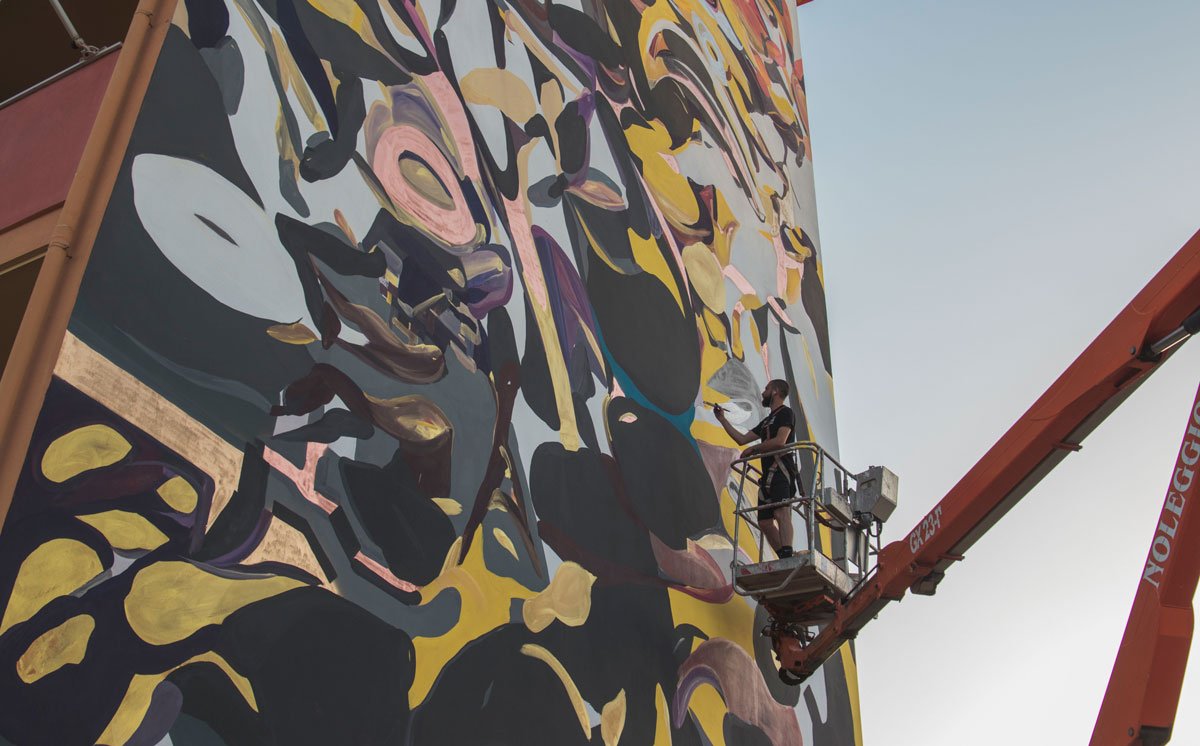 Where do you draw your inspiration? Do you have any influences you'd like to share?
Lately I've been influenced by the evolution of natural elements, bodies, organisms, fluids and silhouettes. They represent to me primordial elements. Together with the selection of colors and chrome's scales, I am experimenting a lot with metal effects I often find in nature and mechanics. The aim is to magnify them through the strokes of painting. I am also inspired by society and what's around me, by emotions and instincts, landscapes and locations I have to paint. That's why my work is getting more related to architecture and nature. I love to replicate my patterns on walls and buildings, as well as canvas or fabrics.
That's a though one, but…how did you develop your own style? What are the distinctive elements of your body of work?
This is the very last goal of every author, when the products becomes language. A medium with strong expressivity can generate emotions and open a personal or collective dialogue.
Still, I am not able to judge by myself what I am producing, we live in a period of contaminations between what's real and what's not. Everything is getting faster, life is getting longer, communication is always evolving. I am trying to express all this within my work. My mind travels are like "futuristic aeropittura", where the artistic part overcomes traditions. Using new standards to analyze our fast and evolving world, in order to reach a new idea of harmony.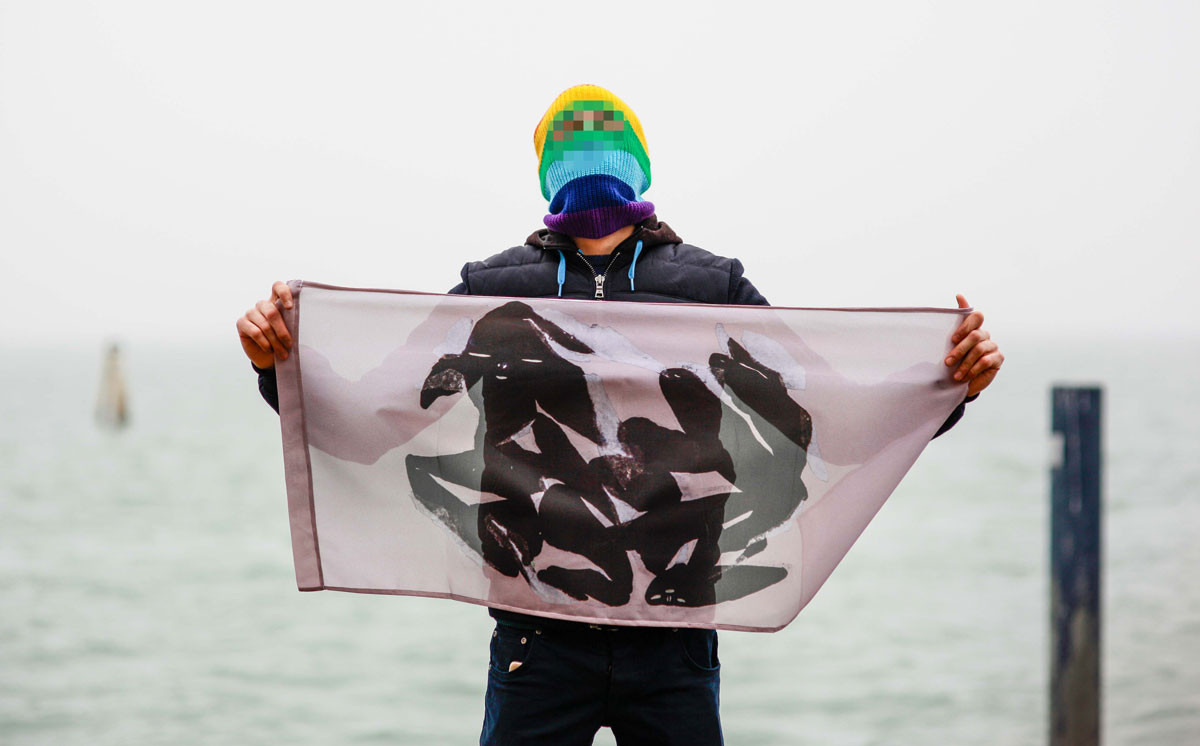 You are on the few who made the big step from walls and street art to galleries. How do you think these worlds have to communicate with each other?
My work deals with painting, collage, product design, urban painting, sculpture and installations. My studio is a subterranean space in the Navigli area, some of my works can only be done in that studio. While for bigger works I use a location near the city's train station. And then Tempio del Futuro Perduto, a pretty new space in Milano where artists, photographers, producers and DJs can share their perspective about art and creativity. Here I am able to document and work on installations also. I don't consider myself a street artist, my background is more related to graffiti and academic studies. But the relation between galleries, festivals and street art can be a huge source of value for the contemporary urban artist.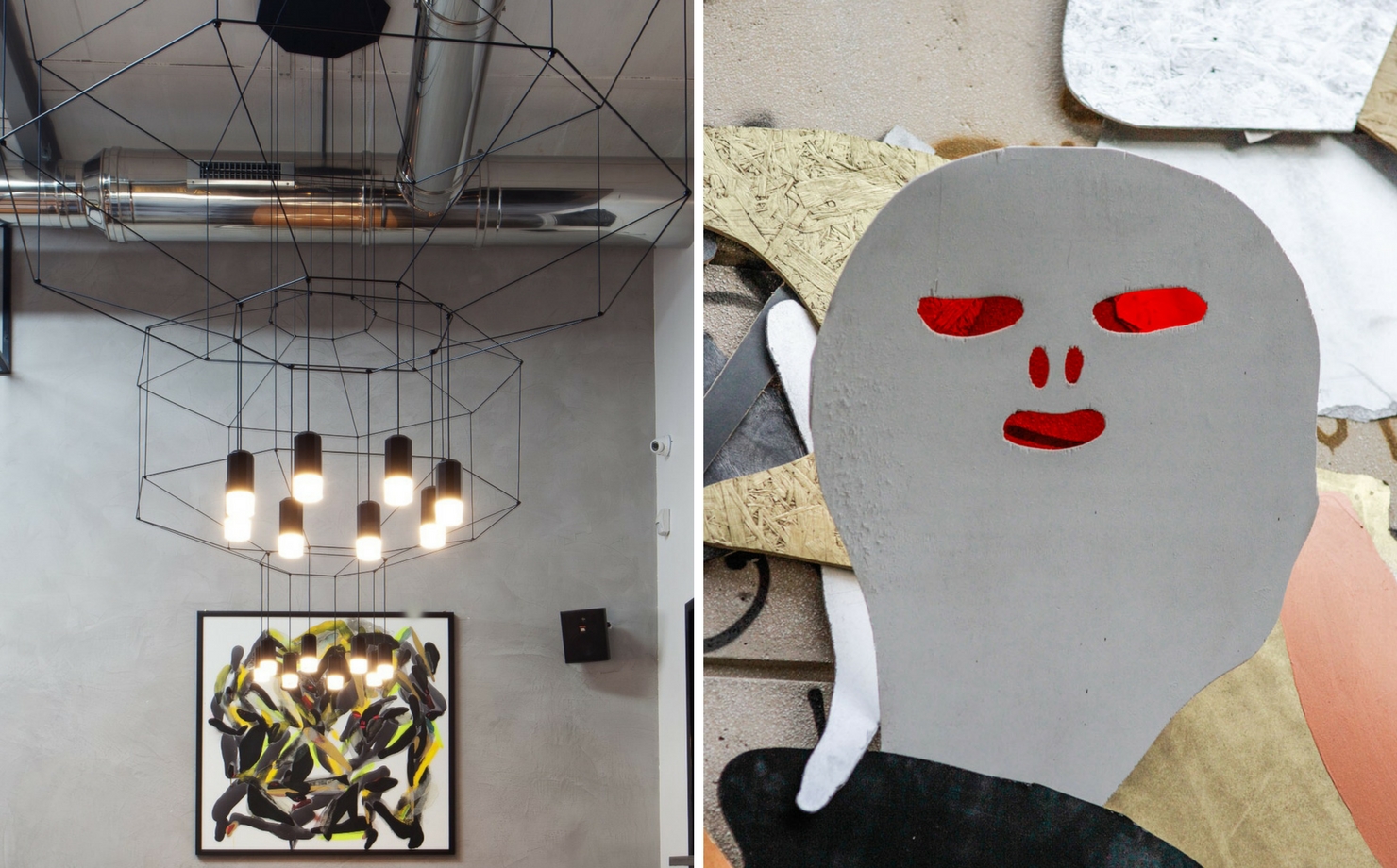 For next Design Week you will team up with Odd Garden for a special project, using only natural materials. What about this?
I have always been fascinated by wood, and how this has been used in the urban landscapes. In the past years I have designed several wooden walls with three dimensional effects and painting. I have collaborated with Grizz (Mattia Paco Rizzi and Luigi Greco), architects and wooden masters, for some future installations in urban public spaces.
With Odd Garden and Matteo Foschi we designed some installations using wisteria fragments and wooden painted sculptures. The name of the project is "Wisteria Autogena" and it will be presented during Design Week on April 18th, in Via Arquà 16. Ensi and E-Green will also play some tunes. What we did was opening a dialogue between gardening and urban art, using our skills and background of street culture and art.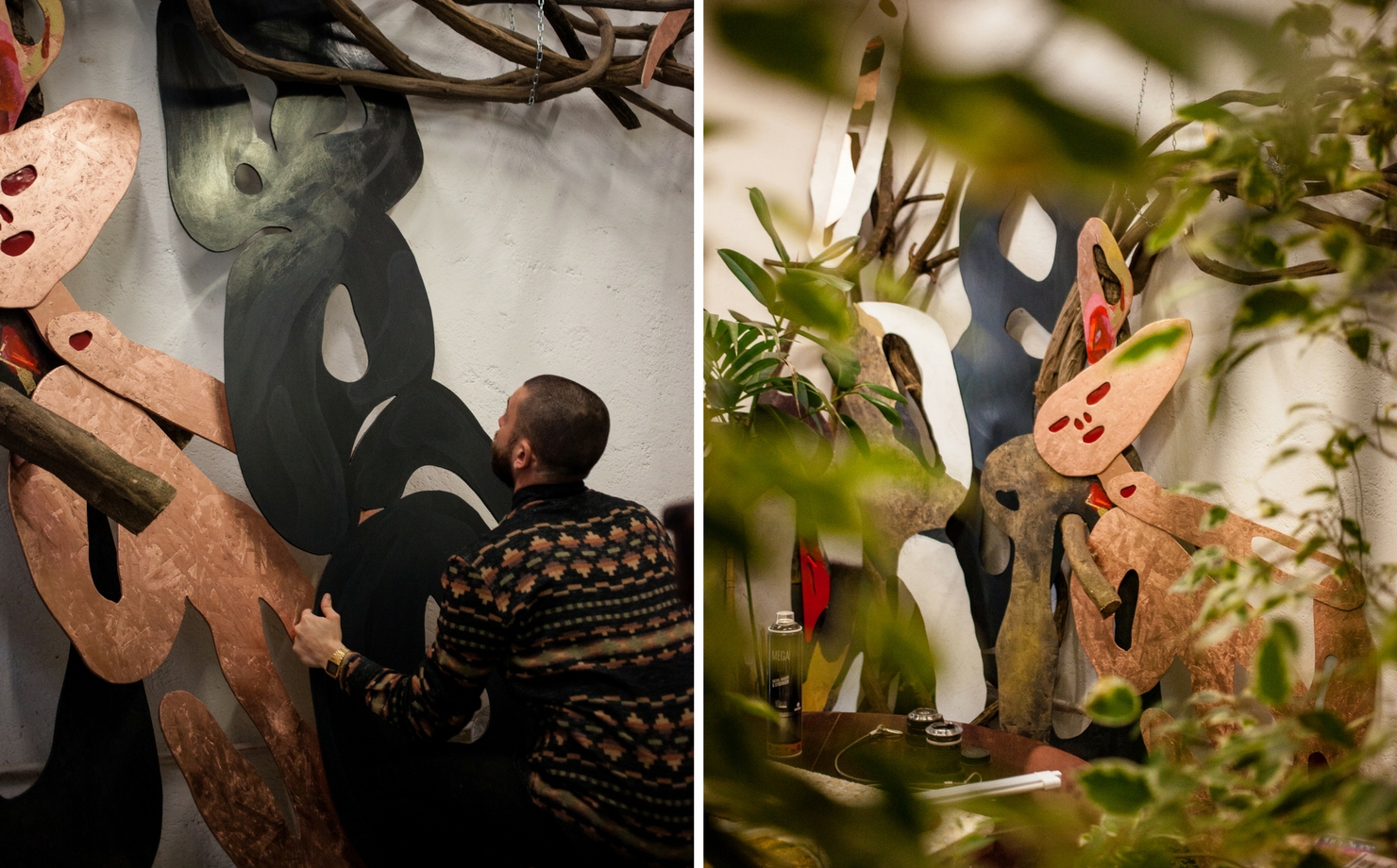 What we're trying to propose is some "botanical urban art", working on the idea of time and aging. At the event you will see some hung branches who will keep growing and moving in the future. Our idea of green street art is something that will never be the same, day after day. Implementing natural elements in urban spaces is something I really do care right now, and it is linked to abstract art as a tool of investigation.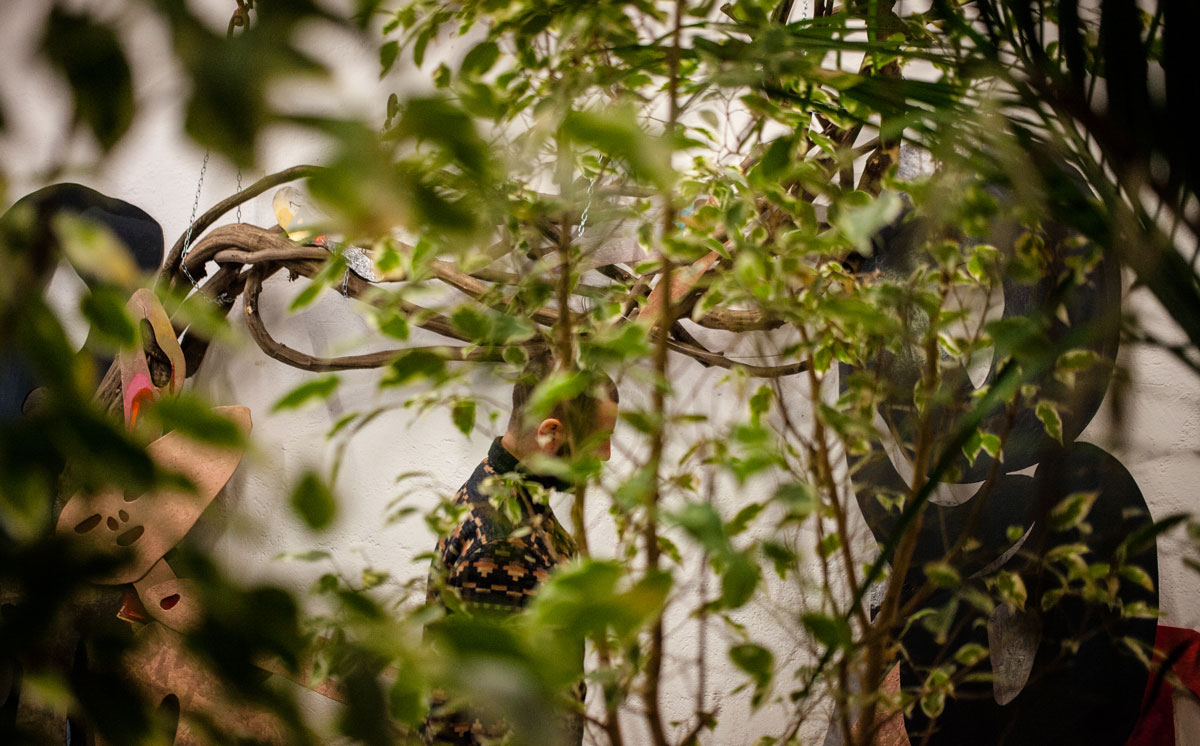 Last but not least, what have you prepared for Wood'd?
For Wood'd I have designed something suspended, windy and fluid. An artwork made of futuristic characters who look behind everything.